Lash mapping is an application of an under-eye pad to the client's eyes. It assists the lash artist in identifying the appropriate lash extension length and developing a lash set that complements the client's characteristics and eye shape.
We'll talk about lash mapping guides, why they're necessary for lash artists, and lash mapping styles in this blog, but first, let's figure out what you'll need.
This is the easy part; all you'll need is some eye pads and a pen for this.
Place them on top of the eye pad and form gorgeous lashes.  For added convenience, you can draw on the desired lengths ahead of your client's arrival, and then select the sticker you require when they arrive.
EXTRA TIP: Before the appointment, request a photo of the client's eyes so you can assess their eye shape.
STYLES OF LASH MAPPING
After you've determined your client's eye shape, you may choose your lash map. There are many different types of lashes to pick from, and we've provided some samples of lash maps below:
Cat: Use the longest lashes towards the outside edge of the lashes to create the illusion of wide-set "exotic" eyes. Almond, close-set, and round eyes are all good choices.
Open:  Apply lash extensions in the same direction as the natural lashes will give you fuller, longer-looking lashes while keeping the natural eyelash pattern. Almond and Upturned Eyes Suits for this style.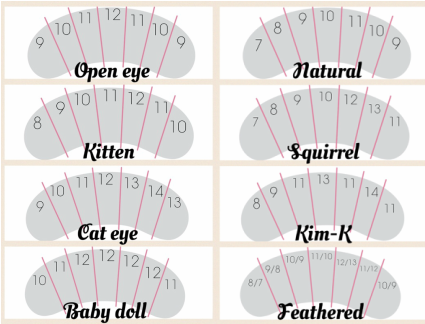 Squirrel: To achieve this look, start short and gradually lengthen, with the halfway point being the longest length, before gradually shortening again. Almond, Close-set, Downturned, Monolid, Hooded, Protruding, and Round eyes are all good choices.
Dolly: Establish the illusion of wide, open eyes by using longer lashes in the midsection of the lashes.  Almond and wide-set eyes go well together.
Kim K: One of the most common lash styles is Kim K. To achieve the Kim K look, spikes or the longer lengths are placed in different parts of the eye to produce a wispy set. Round and Almond eyes are both perfect for this lash style.
EYE SHAPES
#1 Downward-facing eyes
If downward-facing eyes are styled incorrectly, they can appear drooping. For clients with this eye shape, there are several contraindications. You should avoid the squirrel mapping since it makes the eyes look drooping and sad, like sad puppy dog eyes. This is something we want to avoid at all costs.
#2 Wide-set eyes
Avoid using cat-eye and squirrel mapping since it emphasizes the distance between the two eyes, making them appear even more distant. On the outer corners, avoid particularly long lengths and strong curls like D, DD, L, and M, as this will accentuate the outer corners.
Choose dolly eye mapping or natural mapping to reduce the emphasis on the outer corner of the client's eye and increase the emphasis on the inner corner by completely filling in the inner corners. Fill up the inner corners of the eyes thoroughly, since this will draw the eyes closer together and make them appear more balanced.
#3 Wispy Lash Mapping
Wispy Lash Extension is a technique where a handmade lash fan is created using 2-6 lashes, then applied using alternating lash lengths, which gives them the appearance of a False Strip Lashes & Kardashian look. Wispy Volume Lash Extension Full Set is suitable for clients who desire a Spikey False Lash Look.
Read more: Tutorial: How To Work With Eyelash Layers
Photos credit: MK Beauty Lashes, Secret Lashes UK.
---