How to create Natural look for your clients?
How to create eyelash extensions that look more natural? What kind of lash extension looks the most natural? What lash size is appropriate for a natural look? What is the best way to apply natural wispy lash extensions?
Other lash artists might be surprised to learn that not every client wants volume lashes, which are dramatic and glamorous. That is why, if a client requests it, we must know exactly how to produce and achieve a natural-looking lash look.
In this blog, I'll go over the basics you'll need to know if your customer wants a natural look and how to get it.
Basics of Natural looking eyelash extensions
There are a few things to consider before each lash appointment, whether your client wants a natural look or not.

CURL YOUR LASHES

Curls in the shape of D and C are unsuitable for a natural appearance. Both lash curls are best if you want to elevate or emphasize your clients' lashes.

For a more natural look, start with the B Curl lash extensions. The extensions may appear unnatural if they are curlier than the natural lashes.
Read more: C Curl vs CC Curl Lashes
DIAMETER
Use a natural diameter if possible. Match the extension's diameter to your client's natural lash diameter. If your client do have thick lashes, they are only about.15 mm in diameter. Do not use .18 mm and .20 mm, or anything thicker.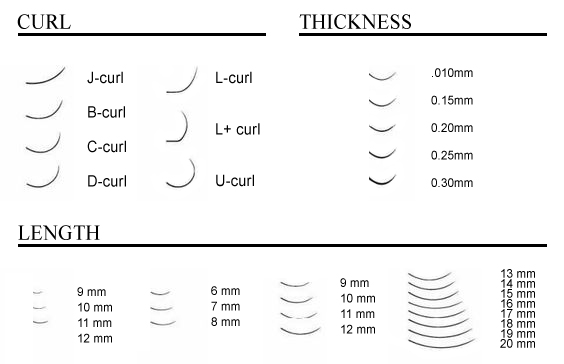 LASH LENGTH
Stick with natural length. If a client wants a natural lash look, don't use a length of.15 mm. You should go for extensions that are depending on the natural lashes of your client. The length must be 12mm or less.
Read more: All About Lashes: Diameter, Length and Curls
LASHES IN BROWN
One of the finest ways to obtain a natural lash look is to use a natural color! Brown lashes, on the other hand, should not be overlooked. Brown eyelashes may provide a pop to natural looking eyelash extensions, despite the fact that black extensions are the most popular.
Brown lashes are better than black lashes. Your client can be taken aback by how natural and lovely you look.

Use 0.07 brown lashes for the base and 0.07 black lashes for the wisps to get this wispy lash appearance.
Eyelash extension natural looks
CLASSIC LASH SET
You can use L curl and Classic C Curl lashes.

VOLUME LASH SET
Simply keep your lash fans to a maximum of five lashes per fan.

HYBRID LASH SET
Hybrid lashes are a fantastic technique to achieve a natural look.

CONCLUSION
The most natural looking eyelash extensions are faux mink eyelash extensions. It creates a more flexible curl that feels lighter and looks more natural on the client. They have a flat or matte black surface, which makes them appear more natural.

Is this blog post helpful to you? Have you found anything new? Leave a comment and let us know what you think. Don't forget to tell your lash friend about this blog and follow our Instagram account @eyesylash for more tips and tricks!
Photos Credit: Christine Lash Studio, Luv'em Lash Extensions BL Lashes, Vogue Lash and Spa
---